Whether you're a die-hard fan of Japanese culture or have stuck to primarily English-speaking and American forms of entertainment, the word anime is one that you've likely come across once or twice — but what does it mean, and where did it come from? We'll tell you.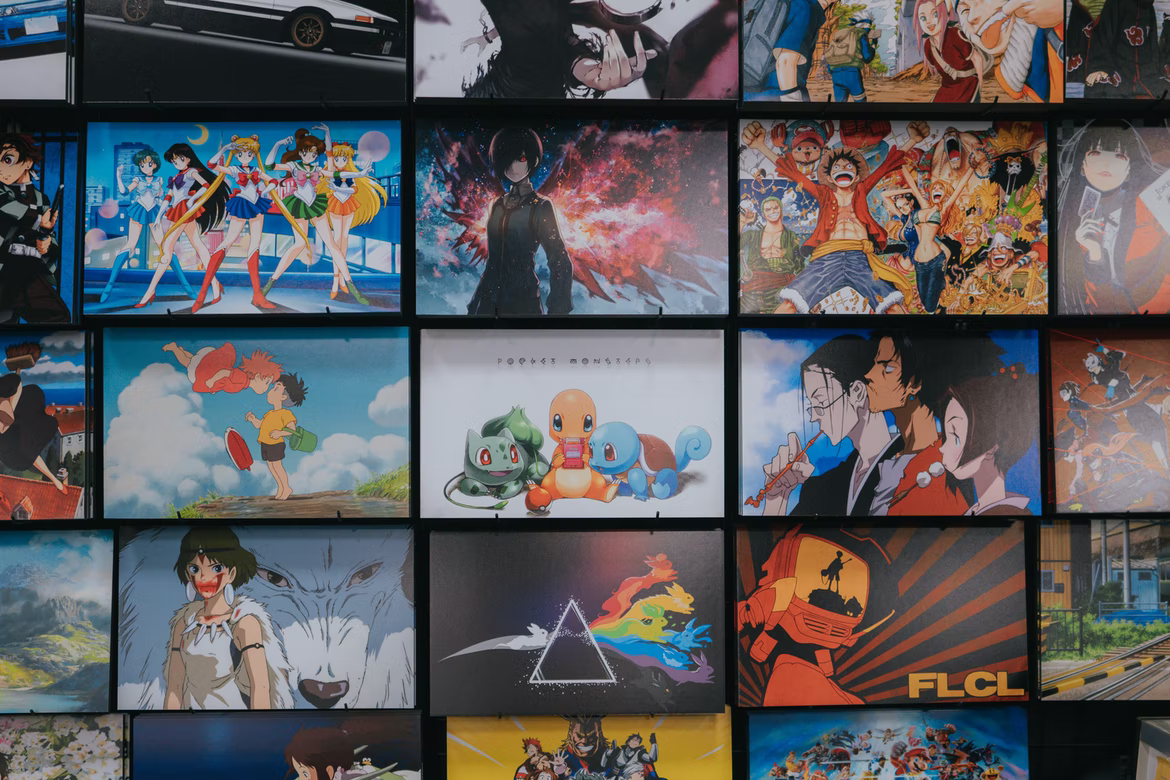 Read on as we explore anime (/ ˈæn əˌmeɪ /) to uncover its definition, origin, and more. Let's get started!

What Is the Definition of Anime?
In Japanese, our word of the day is written as "アニメ," which means "anime," and is short for the English word animation (アニメーション or animēshon). That said, what is an anime series or anime film, and what is the etymology of this word?

According to the Britannica Dictionary, the Japanese word anime refers to a style of animation that uses colorful images, strong anime characters, and captivating stories that have a lot of action. In other words, "anime" is an abbreviation for all Japanese animation. As is the case with English animation, there are a wide variety of animated works that fall under the umbrella of anime.

What Are The Various Types of Anime?
Below you will find a list of the most common anime categories, their definitions, as well as a few of the more popular titles from each:

Shónen — based around a young teenage boy who is usually very optimistic in nature, with the coming of age journey being the main focus. The protagonist wants to achieve something in their life no matter what it takes.

Dragon Ball Z
Naruto
Bleach
Demon Slayer
Attack On Titan
One Piece
Fairy Tail
Black Clover
Seinen — with shonen aiming at the younger crowd of males, seinen targets an older audience with its depictions of war, science fiction, politics, violence, familiar relationships, and death.

Ghost In The Shell
One-Punch Man
Samurai Champloo
Hellsing
Cowboy Bebop
Code Geass
Black Lagoon
Tokyo Ghoul
Plastic Memories
Tiger and Bunny
Gantz
Kodomomuke — this type of anime is more of a target audience demographic than an actual genre. Kodomomuke means child in Japanese, so as you may have guessed, this type of anime is designed for young children to enjoy. 

Comedic and episodic in nature with no real plot or story to follow, kodomomuke aims to teach children how to be genuinely good people.

Anpanman
Pokemon
Hello Kitty
Digimon
Doraemon
Josei — Japanese for "young lady," josei is aimed at young adult women. The josei genre explores deeper topics than most anime, such as sexual assault or infidelity. 

Honey and Cover
Usagi Drop
Princess Jellyfish
Eden of the East
Paradise Kiss
Loveless
Wotakoi: Wotaku Ni Koi waMuzukashii
Nodame Cantabile
Shójo (Shoujo) — where shonen focuses on fighting and action, shojo takes a different approach to the coming of age journey and focuses more on relationships and romance. Anime in the shojo category are often particularly dramatic in nature.

Fushigi Yuugi
Banana Fish
Akatsuki no Yona or Yona of the Dawn
Kaichou Wa Maid-Sama!
Sailor Moon
Fruits Basket
Kami-samaHajimemashita
Ouran High School Host Club
Vampire Knight
Harem — an anime genre where there's one main character who's surrounded by multiple characters of the opposite sex who are usually all potential love interests.

High School of the Dead,
Clannad
Zero no Tsukaima
High School DxD
Mecha — anime movies and shows about cyborgs, robots, and/or the people piloting them. This subgenre primarily appeals to the Otaku subculture in Japan.

Ghost in the Shell
Astro Boy
Neon Genesis Evangelion
Macross Frontier
Fantasy anime shows — for some, a much-needed break from reality, the fantasy genre or category is all about living in your imagination, from anthropomorphic animal people to dragons, fancy sword fights, and everything in between. 

Goblin Slayer
Overlord
Black Clover
JoJo's Bizarre Adventure
Comedy — as you may have guessed, this category is all about anime cartoons that give the audience some giggles and laughs.

Gintama
K
Is This a Zombie
Oreimo
Etotama
Sayonara Zetsubou Sensei
Hentai — arguably one of the most common types of anime, hentai, with its erotic themes, shows some explicit content while maintaining a minor plot. Most fan manga comic books or doujinshi fall into this category.

Adventure Kid
Angel in the Court
Fish in the Trap
F³
Romance — either leaving the audience in a ball of tears sobbing over the plotline or dancing for joy, romance in anime is the same as any other romance category you may find.

Inuyasha
Ore Monogatari
Yuri on Ice
Horror — usually revolving around a theme of demons, ghosts, or curses, oftentimes leading to excessive gore and blood. 

Monster
Danganronpa
Tokyo Ghoul
Isekai — this type of anime is not based on reality but set in a different unknown world. 

Restaurant to Another World
Re-Zero
Elf-san
Welcome to Japan
Bleach
Ecchi — while it may have explicit content like hentai anime, ecchi has far less sexual content.

Kill La Kill
Food Wars
Punch Line
Kakegurui
High School DxD
Reverse Harem — usually based around a dating simulation game or some kind of an "otome," game. The female equivalent to harem anime.

Akatsuki no Yona
Diabolik Lovers
Ouran High School Host Club
Meiji Tokyo Renka
Slice of Life — anime that contains the concept of moe, which itself can be a confusing concept for some. 

Fruits Basket
Wotakoi: Wotakuni Koi waMuzukashii
Tsurezure Children
Kami-samaKazoku
Other less common anime categories include:

Shounen-Ai (yaoi) — anime about boys who are in love with boys
Shójo-ai (yuri) — anime about girls who happen to be in love with other girls
Lolicon — anime with the main character being a young girl who is usually flat-chested with larger than average eyes in an attempt to depict a cuter feel to the audience. The slang word chibi or チビ, meaning small cute thing, is commonly used in this genre.
Shotacon — male version of a lolicon
A Final Word
So, what does anime mean, you ask?

Simply put, our word of the day refers to an artistic style of Japanese film and television animation that has captured a massive global fanbase throughout the years.

You can find an anime about pretty much any topic in a number of different genres. Whether you're looking for some laughs or prefer to ugly cry on the couch, there's an anime for you.
Sources:

Anime Definition & Meaning | Britannica Dictionary

When Did Anime Begin? | Wonderopolis